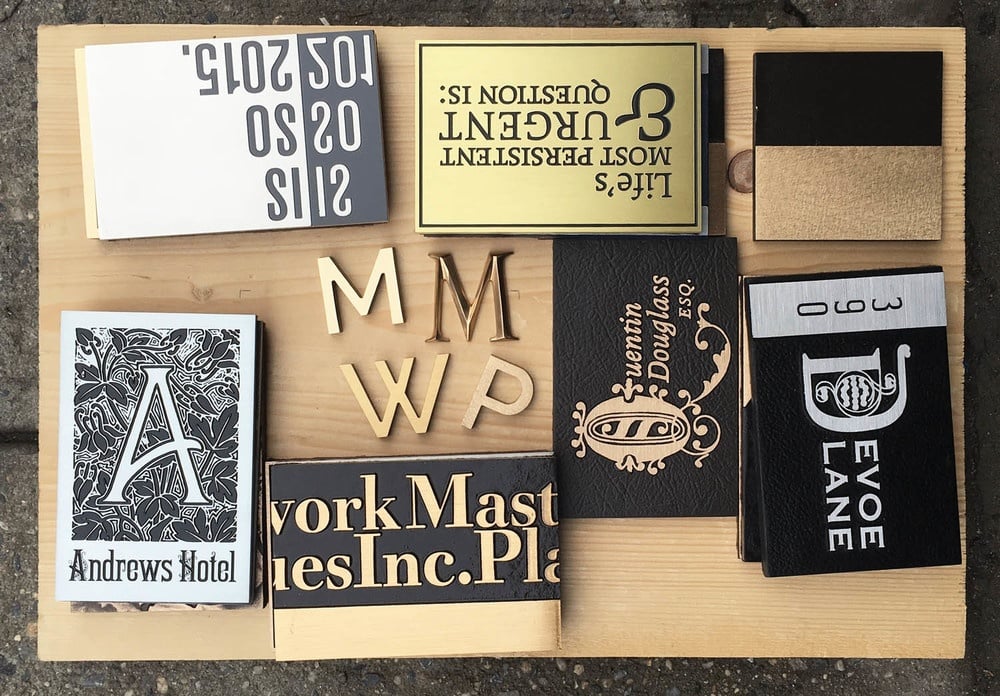 MASTERWORK PLAQUE SAMPLE DESIGNS
After many requests from our customers, we now carry a variety of metal plaque samples in house for our customers to review. Because we create custom bronze, aluminum, stainless, brass and zinc plaques using both casting and etching techniques, the amount of choices our client's have to choose from can be overwhelming.
While we have many examples of past plaque projects on our website, we now have fifteen sample plaques ready to ship, in convenient 6" x 4" sizes, which now gives our clients a more tactile way to decide between different plaque background textures, finishes and mounting techniques. We also carry a four different water-jet cut letters with prismatic, polished, satin and random orbital finishes, so our clients can review individual letter options in person as well.
HOW TO ASK FOR A PLAQUE SAMPLE
If you are interested in ordering a plaque from our studio, fill out a quote request form on our website, and our designers can start by suggesting the appropriate material for your project based on the size of the plaque, complexity of designs, and where your project will be installed.
Our designers typically send images of past projects along with their initial quotes, but if you would like to review a sample in person before proceeding with an order, we can send one of the options above to an address of your choice. If you prefer to create your own plaque sample, we can typically create a custom sample in about 2-3 weeks for a small fee.
Once the sample is sent to your home, and you have determined the best materials for your project, we ask that you return the sample to our studio so that we can continue to send samples to future clients.