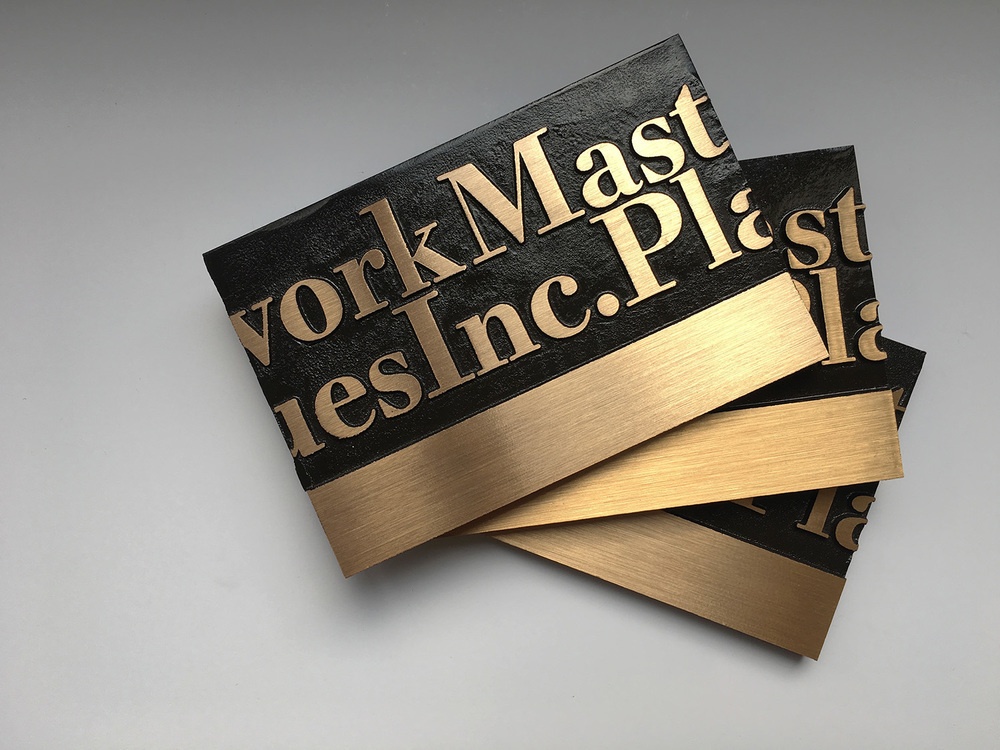 Ordering plaques in large quantities requires attention to detail and proper planning. Whether you are in need of a group of interpretive plaques installed in a series, award plaques or way-finding signage, there are a few things we'd like to suggest, right off the bat:
TIPS FROM THE PLAQUE-MAKERS
#1 Plan Ahead
In the age of one-click purchases, many of our clients do not expect custom plaques to take the time they do to produce. We use traditional mold-making processes and bronze pouring techniques to ensure your plaque is created at the highest quality. Each one of our projects is designed to our client's liking, and after the order is finalized, the designs go through pattern-making, casting and finishing processes before shipment. Our plaques are made by skilled artisans that value their craft and are proud of the Masterwork product.
For single plaque orders and smaller quantities, we typically require four weeks to produce and deliver the work. For certain projects, we can expedite this manufacturing time to two weeks for an additional fee. If the bulk order is over 25 plaques, manufacturing time is usually around 6 weeks. For orders of 100+, we tend to ship out in installments, and manufacturing time is determined by the size of each plaque and the overall quantity.
#2 Consider Storage
For large quantity orders and plaques that are over 4ft in size, storage can become an issue. When you start to plan the content of your plaque, also start to consider a secure storage area where the plaques can be received and held. Masterwork Plaques does not provide storage once the plaques have been manufactured in order to maintain an orderly shop environment.
#3 Order a Sample Plaque
Better safe than sorry, we always say. If time allows, we suggest ordering a single plaque before proceeding with a large order. We can produce a sample plaque in two weeks, which gives our customers the opportunity to review the final product before 100, 500, 1000 plaques arrive at their door. Sample plaques give our customers the option to review a plaque in person and make any appropriate changes to the design, which prevents issues in the final order.
We also have samples in house that can be sent to clients with tighter schedules. Our pre-made samples are 6" x 4" and can give you a tangible idea of the finish quality and background textures you are planning to use in your final order.
#4 Invest in a High Quality Metal
Masterwork Plaques is all about quality. We create our custom signage at competitive prices, and we always suggest that our clients create their plaques from the best materials they can afford. While bronze and stainless steel are a little more costly than other metals, they last a whole lot longer, and the investment pays off over time. Our customer relations team can work with you to determine the highest quality product that fits within your budget.
Common Types of Plaques Ordered in Large Quantities:
Walks of Fame
Honoree Plaques | Star Plaques | Permanent Sidewalk Medallions | Tribute Trails
Walks of fame (similar to the Hollywood Stars in Los Angeles) are typically large quantity orders that are installed underfoot, commemorating specific individuals. These plaques are created using one base design, with interchanging honoree names.
Interpretive Plaques
Way-finding Plaques | Illustrative plaques | Historical Markers | Timeline Insets
Interpretive plaques are informative text plaques or illustrated markers that often lead the viewer through a park or building while telling a story. The plaques can show the passing of time from piece to piece, or depict unique events that took place at the specific site where these plaques are installed.
Bulk Orders
Award Plaques | Donor Plaques | Corporate Signage | Building Plaques
Bulk order projects are large quantity orders of one plaque design, and often are produced in the largest numbers. Many clients will be interested in ordering hundreds of plaques for a building or a group award, and it is imperative that each plaque looks consistent.
Masterwork Plaques offers discounted pricing for bulk and quantity plaque orders.
For a custom quote on any of these types of projects, fill out a quote request form or give us a call at (718) 283-4109 if you would like to discuss your unique quantity plaque project in more detail.