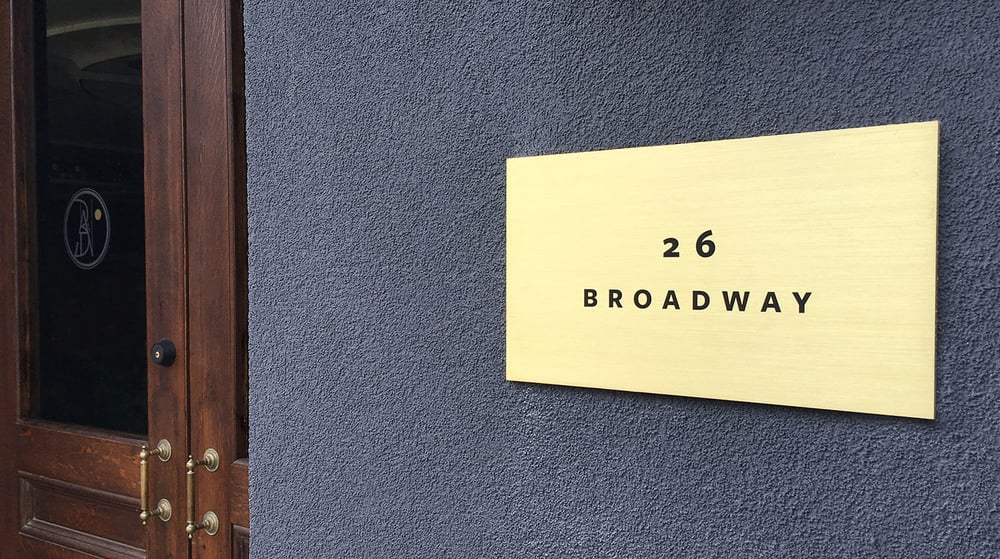 ABOUT BARANO RESTAURANT
Located in Williamsburg, Brooklyn about six blocks from our design studio is the highly anticipated Barano Restaurant which opens this month. Chef Albert Di Meglio, former chef at Rubirosa, created a menu inspired by his childhood as an Italian-American in Staten Island. The restaurant's name, Barano, is named after his family's hometown on the island of Ischia, just off the coast of Naples, Italy. New York Magazine writes, "…the kitchen revolves around a wood-fired oven, rotisserie, and grill, which Di Meglio employs for pizzas like the L'uovo (Swiss chard, capocollo, Fontina, and duck egg) and spit-roasted meats." Sounds delicious to us!
The interior design aesthetic of the restaurant was conceptualized by Brooklyn Home Studios, with the restaurant's exterior signage manufactured by Masterwork Plaques. The building's exterior features two etched brass plaques, one featuring the name of the restaurant, the other the street address.
Restaurant and exterior signage is most successful when the design is simple, crisp and clean. Our studio always recommends investing in high quality materials. Although we do create plaques in aluminum, zinc and other more affordable metals, brass, bronze and stainless steel will stand the test of time.
We were thrilled to see our plaque featured on the restaurant's main page!
For more information regarding our etched brass and custom plaques, give us a call at (718) 283-4109, and we will be happy to discuss a variety of options for signage that bests suit your business.