As we mentioned in our last Walk of Fame blog post, there are many walks of fame installed across the country and abroad. The Hollywood Walk of Fame is definitely one of the better known tribute walks, but it is certainly not the only walk of fame of its kind. As a studio that produces many walk of fame installations, we have found that material plays a major role in the success of these trails, especially after years of heavy foot traffic and changing weather have tried to leave their mark on these exterior walks
Australian Surfing Walk of Fame & Film Walk of Fame
Randwick, Australia
The Hollywood Style Walk of Fame craze has even made its way around the globe to Australia. With nationally recognized footpath tributes honoring Australian legends of the sea and screen, we learned in an article in the Daily Telegraph that the City Council in Randwick was attempting to install a third walk to celebrate sporting heroes as well!
We love the way the bronze medallions appear to float on the sand-colored paving. Although this walk of fame was not created by Masterwork Plaques, we agree that bronze is one of the best materials for series that are placed underfoot, as not many other materials can hold up to heavy foot traffic, not to mention salt water and sand.
Santa Fe Artist's Walk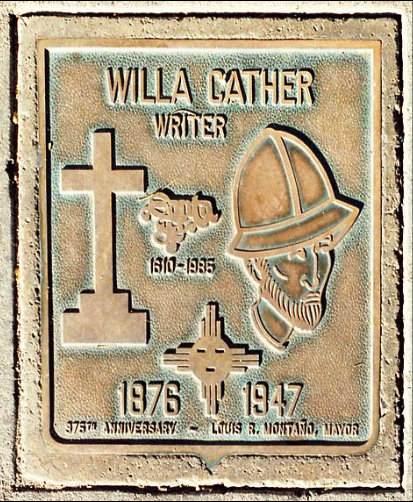 Santa Fe, New Mexico
Created by sculptor Vladin Stiha in 1985 these eighteen commemorative plaques embedded in the sidewalk reference artists that were active in the Santa Fe region. Each bronze relief plaque honors a separate artist or writer and includes their life dates, a Christian cross and a Spanish conquistador. The walk has been continued in recent years with additional noted Santa Fe artists.
Nashville's Music City Walk of Fame
Nashville, Tennessee
A major attraction for music fans and tourists alike, inductees at the Music City Walk of Fame are honored with permanent sidewalk medallions with the musician's name displayed in a star-and-guitar design. Past recipients include Jimi Hendrix, Emmylou Harris and Jack White.
If you think musicians have a tough time starting out, this walk of fame went through a comparably difficult journey in its early years as reported by WSMV: The Walk of Fame is just four years old, but has had numerous problems. "We've had trucks. We've had skate boarders. We've had weather. There's not much that hasn't impacted the project," said president of the Nashville Convention and Visitors Bureau. Tourists say that they are disappointed by the conditions found at the Walk of Fame and that it sends the wrong message "That tourists aren't really that important," said one visitor in the article. "It's kind of disrespectful to the artists that do get messed up that they aren't that important," said another. The celebrity stars are funded by private dollars and at the time of the article replacements in concrete and stone were planned.
This walk of fame project is a good example of the importance of material. Granite is a very durable stone, but can be susceptible to chipping and cracks, especially if a significant amount of weight is overloaded onto the work. We would exclusively recommend bronze for this type of tribute walk.