Building management plaques, metal building owner signs and leasing agent markers are an excellent way to both to secure property and provide a stylish statement piece recognizing building ownership. Our studio specializes in the creation of these custom building plaques, translating your company's logo and business information into an eye-catching work of cast metal art. Our studio also offers discounts on quantity plaque orders, understanding that our property management, building owner, landlord and leasing agent clients often work with multiple properties.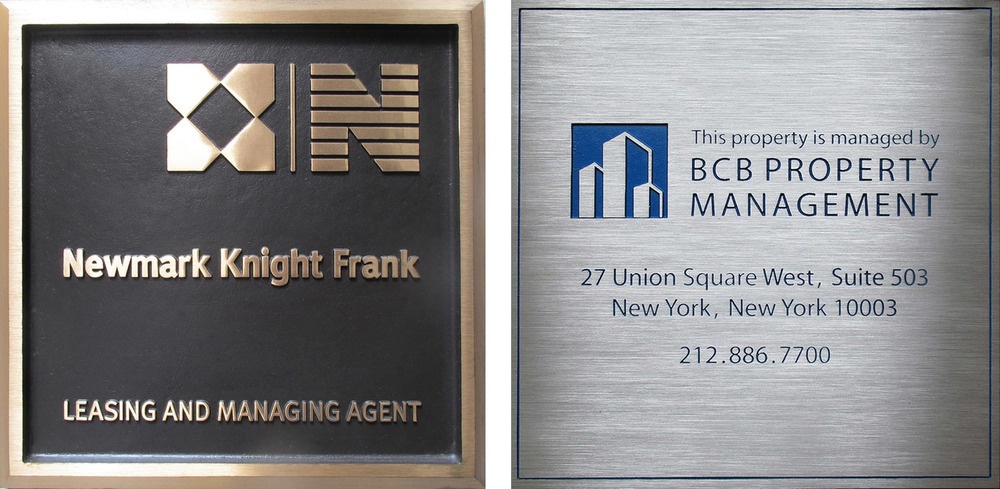 Building management plaques have a great amount of flexibility in regards to their design. Material, size, border style and finishing techniques can be tailored to the brand and personality of each company and property location. For example, bronze and brass plaques are typically associated with a more traditional styled building, whereas a stainless steel or aluminum plaque is visually more contemporary and match modern construction.
We also can offer a variety of border styles and finishing techniques, shown on our plaque options page, that can set your plaque apart from the rest.
Finally, Masterwork Plaques offers secure installation techniques that both seamlessly integrate into a plaque's design and protect against any risk of theft. For more information on building management plaques, contact us at masterworkplaques@gmail.com.